SKYBAND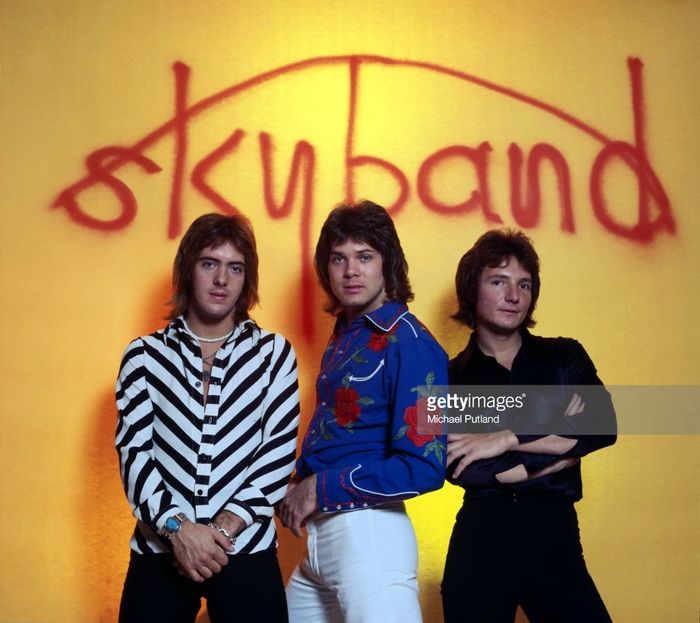 PETER BECKETT~LANE CAUDELL~STEVE KIPNER
After Paladin disbanded in 1973, Peter was asked to join Tin Tin by his friend Steve Kipner, when two of their members, Johnny Vallins and Geoff Bridgeford, quit. The UK band was known for producing a top ten hit called 'Toast And Marmalade For Tea' in 1971. At the end of 1972, Bridgford left Tin Tin to concentrate on his work with the Bee Gees. When Vallins also left, Steve Kipner and Steve Groves had to find somebody else, thus Peter's entrance. Peter contributed to Tin Tin by writing and producing their last single in 1973 called 'I'm Afraid' and the B side 'Handle Me Easy'. Peter's voice can be heard on the lead vocals of another rare single record "It's A Long Way To Georgia"1974, due to the fact that Steve Kipner left for the US to persue another music project. Peter then left England to move to L.A. to further his music career.

Back in the US, Steve Kipner had a new band there called 'Friends' with Daryl Cotton and Michael Lloyd. Daryl Cotton was formerly of the Australian band Zoot, and Lloyd was from the West Coast Pop Art Experiment Band. As 'Friends', they produced  a few singles including 'Gonna Have A Good Time' and 'Would You Laugh?' The album was considered to be soft pop rock, and had a lot going on for it as far as production, vocals, and instruments. Peter co-writing 'Applecart' with Steve Kipner for the LP. Cotton and Lloyd quit the band to form Cotton, LLoyd, and Christian. The 'Friends' album was immediately pulled from the store shelves when Lloyd left MGM to form a new label with Mike Curb, called Curb Records. Cotton then quit, and Peter and Steve took on Lane Caudell, changing their name to Skyband in 1974.  

Skyband released their one and only self-titled LP, recorded at RCA House in London, England. This album was produced by the members of Skyband themselves and is well remembered for the cover photo of the band in tribal headgear. Skyband also co-managed themselves along with GTO/Entner. Their sound was similar to the Bee Gees, yet a rock and roll influence could be heard on some of the tracks. Very often, the two styles collided as one on a few select tracks. The songs are a combination of nice harmonies, great guitar and piano work, with excellent lead vocals shared by Beckett, Kipner, and Caudell. Jay Burrid Mitthauer joined them as the tour drummer. The song Skyband is most remembered for is the first single called "Bang! Ooh! You Got Me!'  They later released "Pie In The Sky" as their second single. The band toured mostly abroad and played a handful of shows in the US, opening for such artists as Peter Noone at Knotts Berry Farm and the Jackson 5 at the Worlds Fair in Spokane, WA. They were also known to play the famous, but now gone, Greens Apollo Theater in Glasgow, Scotland as a support act for The Sensational Alex Harvey Band in 1975. Skyband, with their more pop oriented sound, didn't sit well with the fans of The Sensational Alex Harvey Band when on tour in England and Europe. After one album, Lane Caudell quit the band to move on to an acting career. He was replaced by Reed Kailing, formerly of the Grassroots.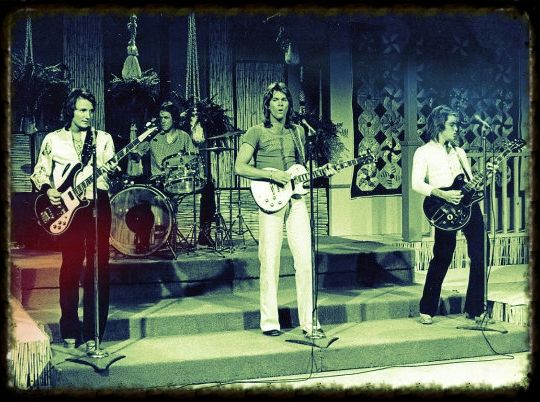 SKYBAND 1975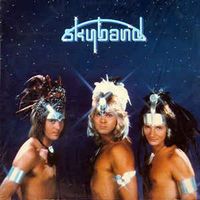 RCA RECORDS
1. 
Bang! Ooh! You Got Me! (Beckett, Kipner)     
 2.  Me And The Raver (Beckett)
 3.  Pie In The Sky (Beckett,Kipner,Cotton)
 4.  Hollywood (Beckett,Kipner)  
 5.  Dream Machine (Beckett)
 6.  Spotlight On The Dancer (Beckett,Kipner)
 7.  Cold Light Of Day (Beckett,Kipner)
 8.  Small Talk (Caudell)
 9.  Can't Keep My Love Undercover (Beckett,Kipner)
10. Roll It Over (Beckett,Gibson)
11. Easier Than Saying Goodbye (Beckett,Kipner)
Band members: Lane Caudell, Peter Beckett, Steve Kipner
---
SINGLES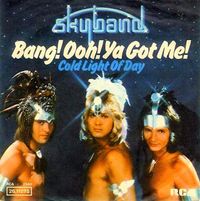 1975
 A-SIDE Bang! Ooh Ya Got Me!

 B-SIDE Cold Light Of  Day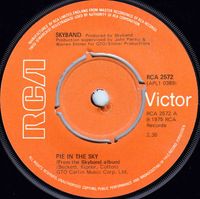 1975
   A-SIDE   Pie In The Sky

  B-SIDE   Dream Machine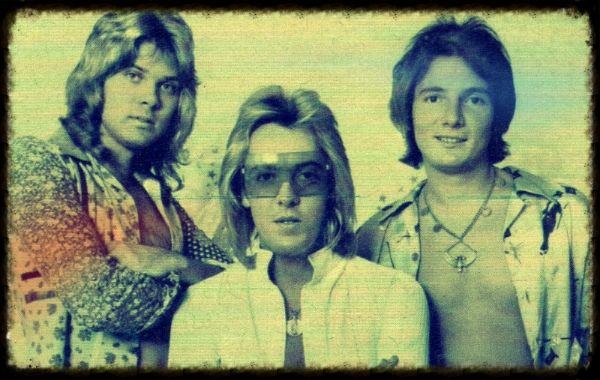 TOUR DATES

8/??/1974   John Wayne Theater Knottsberry Farm CA (Peter Noone)
8/17/1974   World's Fair Spokane WA (Jackson 5)

SENSATIONAL ALEX HARVEY BAND TOUR
5/01/1975 City Hall  Newcastle UK
5/02/1975 Usher Hall  Edinburg UK
5/03/1975 Caird Hall  Dundee UK
5/04/1975 Glasgow  Apollo UK
5/07/1975 Empire  Liverpool UK
5/08/1975 St. George Hall  Bradford UK
5/09/1975 Mayfair  Newcastle UK
5/10/1975 University  Leeds UK
5/11/1975 Guild Hall  Preston UK
5/12/1975 Free Trade Hall  Manchester UK
5/13/1975 City Hall  Sheffield UK
5/15/1975 Odeon  Birmingham UK
5/16/1975 Guild Hall  Portsmouth UK
5/18/1975 Fairfield Hall  Croydon UK
5/20/1975 De Montfort Hall  Leicester UK
5/21/1975 Town Hall  Watford UK
5/22/1975 Capitol  Cardiff UK
5/23/1975 Colston  Hall Bristol UK
5/24/1975 Odeon  Hammersmith UK
5/26/1975 Kursaal  Southend UK
---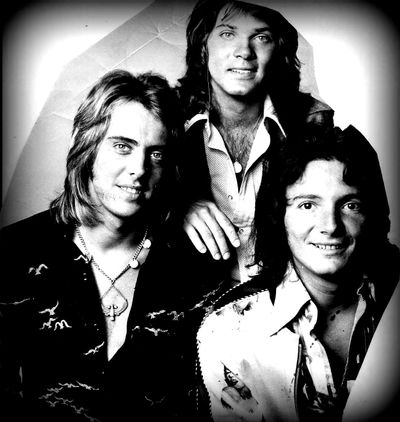 *SKYBAND REVIEW FROM THE ROXY IN LOS ANGELES CA
CASHBOX  April 19, 1975
 ROXY L.A. - It was a cold, clear, crisp evening outside but inside the Roxy Theatre people were standing on top of each other as RCA records was showcasing one of its upcoming groups, Skyband. From out of the wild blue yonder Skyband composed of Steve Kipner, Pete Beckett and Lane Caudell rocked the Roxy with a flaming set which highlighted their diverse and vibrant melange of music. The crowd was all ears as Skyband worked their set very well keeping the tempo of the show con- stantly going with different speeds to keep the excitement flowing throughout the entire evening. From country flavored rock to high-spirited and drivin' rock Skyband is a hot group as each member of Skyband does his own individual thing totally complimenting the other members of the band very well. Doing material from their debut album on RCA entitled, "Skyband," the group dressed in satin pants and shirts really were up to please the crowd and that's what they did. "Dream Machine,- one of the high points of their album captures the ambitions of Skyband as they proclaim in a tongue-in-cheek manner, "I can be a rock 'n' roll idol, I can be a movie star. Astral taxi into somewhere, nowhere is too far." "Pie In The Sky," was another of their varied numbers which has excellent Top 40 possibilities because it is a very catchy tune that bounces lightly along with all three mem- bers of Skyband blending' in a Holliessound vocal, chanting the title lyric, "Pie In The Sky," deliciously. Lane Caudell should be singled out for his outstanding job on "Spotlight On The Dancer," playing the rock n idol marvelously as a bright yellow spot glistened against his satin outfit while he swayed and lunged his hips to the raunchy rock beat. Three bare -chested girls were scattered among the crowd doing a marvelous go-go routine which really added well to make this a super show stopper. Closing out the set Skyband did their current fast -rising single "Bang! Ooh! Ya Got Me," which is a high-energy rhythm gem featuring great violin and guitar hicks with a golden gun being shot at the end, finishing their fine show with a bang.