John Beckett was born in Coleraine in 1961, began learning guitar aged 11 (largely self taught), interested in folk and classical guitar, practised/played both styles (classical very poorly) for about 26 years. Began to develop an interest in guitar making, primarily making classical guitars and slowly introduced a steel string range and now offers a range of 8 models. All materials used are top quality - various wood choices on offer.
This is the very beginning of one of the the first Beckett guitars in America being built by Luthier John Beckett of Ireland(no relation) for Peter Beckett. Check back often to view the photos and steps it takes to create this magnificent guitar.
---
Starting out with choice English cherry and spruce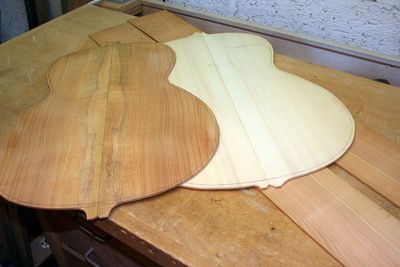 As it is right now, the linings have all been contoured to sit flush with the edge of the sides. I build the backs of my steels to an 18ft radius, so the body (back) is also contoured to this radius. The linings are then brought to the same so as all fits together without tension, light clamping is all that is needed. Photo '94 shows the linings still slightly proud, I wanted to show before and after they'd been brought to 18ft radius. 

The English Cherry is looking very beautiful and I've decided to contrast it with East Indian Rosewood inlay and bandings.  I built a very warm yet crisp, balanced sound into my guitar. I'll make a rosewood bridge and fingerboard...very striking and will give both that honey to darker look.
---
Just glued the Crossbandings on the back of this beautiful English Cherry 000 - guitar being made for my namesake, Peter Beckett of Player.
#80-Bending the sides and making the linings
#81-Sides bent and and front and rear block being glued on
#84-Blocks glued on and Indian Rosewood endflash glued in place
#88-Time to bore a hole and check fit a K&K transducer
#94-Side assembly in the mould, time now to profile the linings to the correct radius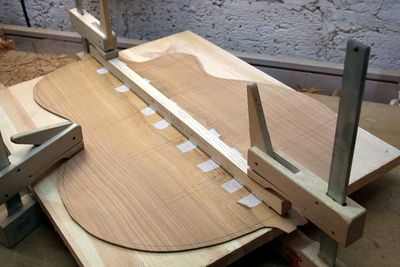 ---
#7760-Fret slots cut in the Rosewood fingerboard and Mother of Pearl inlays being fitted

#7768-The fingerboard (with inlays tight fit - lightly superglued) head face with name inlaid and bridge almost finished

#7776-Some bridges being made, Peter's is on the right. The underside is sanded on a 25ft radius sanding block, when all white lines are gone, the bridge fits to soundboard perfectly with just fingertip pressure

#7784-Name inlay sanded flush, fingerboard inlays superglued fully and underside of bridge now has the 25ft radius to fit the soundboard exactly. The fingerboard inlays will be sanded flush and then the fingerboard will be sanded to a 16ft radius, for playing comfort

#7793-The oversized back braces glued on, these have a 18ft radius. The back of this guitar has a 18ft radius while the front (soundboard) has a 25ft radius

#7798-Oversized soundboard bracing and tone bars set roughly on the 000 plan (only brace 1 differs slightly for cutaway), these have a 25ft radius on the underside...X brace not yet fully jointed
---