LITTLE RIVER BAND 1989-1997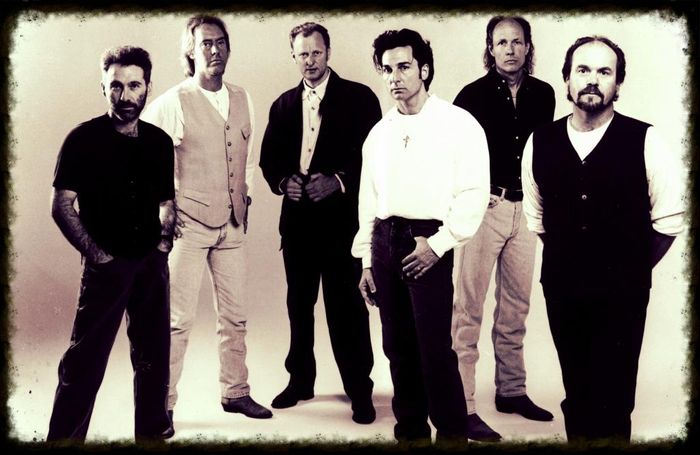 DEREK PELLICCI~PETER BECKETT~STEPHEN HOUSDEN~TONY SCIUTO~WAYNE NELSON~GLENN SHORROCK
Peter Beckett began his stint with the Australia's Little River Band, by writing songs for the band starting in 1988. Along with Glenn Shorrock, LRB's original lead singer, Peter teamed up to write 'Soul Searching' for LRB's Monsoon(MCA) album. Along with songwriter/producer Dennis Lambert, Peter also wrote 'Everytime I Turn Around, which was recorded on LRB's Get Lucky LP(MCA). A recording of this also reappeared on Player's Lost In Reality album in 1996. Little River Band members at the time of the recording were Glenn Shorrock(lead vocals), Derek Pellicci(drums), Stephen Housden(lead guitar), Graeham Goble (guitar/vocals), and Wayne Nelson(bass/ vocals). After the release of Get Lucky, Graeham Goble astonished everyone by departing the band. Paul Palmer, their manager as well as Player's, asked Peter to take his place on guitar and backup vocals, to which Peter obliged. They went on to play an Australian tour, and returned to the States for another leg of the tour.

Tony Sciuto also toured with the band in 1990, adding a more keyboard oriented sound to their live performances, along with his guitar skills and backup vocals. In 1991, the band released another record titled World Wide Love. This project was a mixture of the best songs taken from the last two albums, Monsoon and Get Lucky. The title track 'World Wide Love', was released as a single, written by Tony Sciuto, Derek Pellicci, and Peter Beckett. This song was also used as a findraising theme for the World Food Bank that year. The B side, 'The Bottom Line', was written by Peter with Derek Pellicci. Peter would also release this song on his own solo album, Beckett, the same year. 

By 1992, Little River Band went on an extensive world wide tour throughout Europe and the USA. Peter was the featured artist, singing his number one hit from his PLAYER days, 'Baby Come Back'. A live version of this tour was released on Blue Mountain Records by LITTLE RIVER BAND called Live Classics.This album was dedicated to Wayne Nelson's daughter Aubree, who at the age of 13 died in a car crash that year. The band was back on the road again but Tony Sciuto had left in 1992 to rejoin his own band, Banging Rush. Tony then returned to the band in 1993 to 1997. Richard Bryant stepped in to take over the keyboards. When the world tour was finished, the band members went their separate ways. 1994 saw Stephen Housden releasing a soley instrumental album New World Groove(Guitar Nine Records), showing his stunning guitar technique from his Celtic influences. He was assisted by Derek Pellicci on the drum programming and percussion. 

Also in 1995, Little River Band's Twentieth Anniversary Collection, compiled and also produced by Derek Pellicci, was released on Rhino Records.The new double CD was a collection of 37 of the best songs from the band's career since 1975, including the John Farnham era. The band was on the road once again but due to over excessive touring schedules, Glenn quit the band in 1996, as well as Wayne Nelson. Glenn was then replaced by Steve Wade, x-lead vocal for the Graeham Goble Experience. Wayne Nelson was replaced by Hal Tupea on bass. With Wade as the frontman on lead vocals, Little River Band traveled two world tours, also playing 500 gigs in the US as well as a short tour of New Zealand. Wayne continued his work producing custom sound for Studio West in San Diego. Tony Sciuto returned to play keyboards once again from 1996- 1997. 

When this tour ended, Peter left the band to return to his other projects involving Player. Tony Sciuto went on to released Holiday In Eden with his band, Banging Rush. Steve Wade remained LRB'S lead singer until 1999. After terminating his membership, Steve release his self-titled album in 2001, and is credited with a number of television and radio commercials, variety shows, and soundtracks. Wayne Nelson, taking over the lead vocals, rejoined the group in 1999 and still tours with Steve Housden, Greg Hind(guitar), Chris Mario (keyboards,vocals) and Billy Thomas(drums) as Little River Band. LRB was, and still is the finest soft-rock band from Australia, now celebrating their 30th anniversary this year(2005). Glenn Shorrock went on to form BSG, with Beebs Birtles, and Graeham Goble, touring Australia, playing the great songs that they wrote and made famous with Little River Band. Birtles, Shorrock, and Goble are planning an American tour for 2006.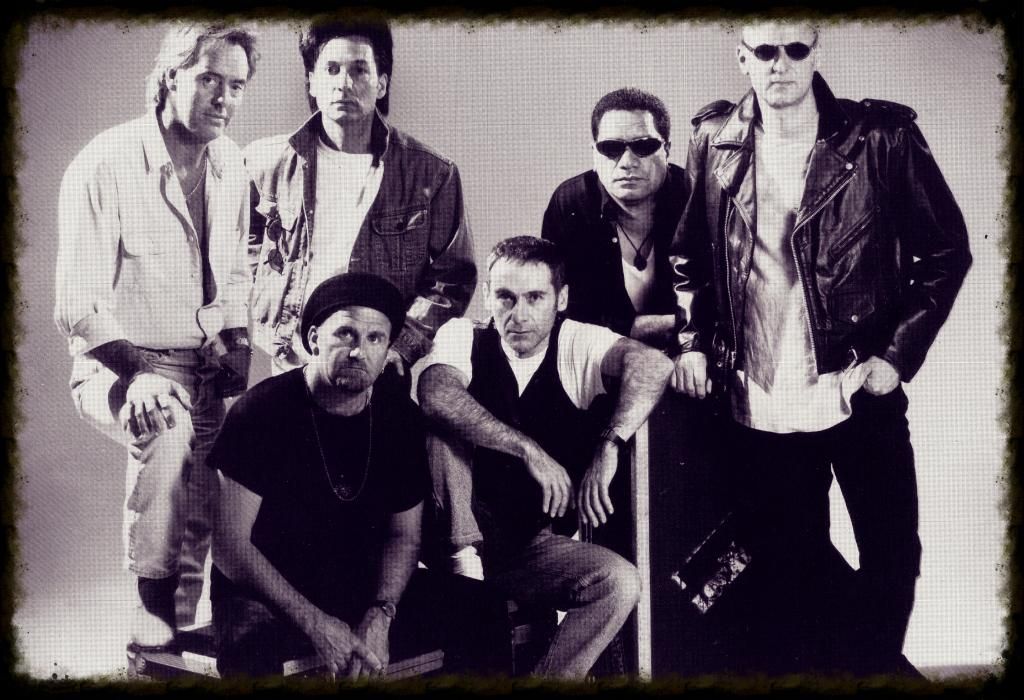 PETER BECKETT~STEVE WADE~TONY SCIUTO~DEREK PELLICCI~HAL TUPAEA~STEPHEN HOUSDEN
WORLD WIDE LOVE 1991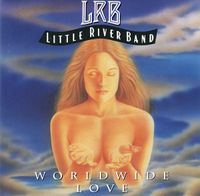 1.     World Wide Love (Beckett,Sciuto,Pellicci)
 2.     It's Cold Out Tonight (Goble)
 3.     There's Not Another You (Goble)
 4.     Soul Searching (Beckett,Shorrock)
 5.     Parallel Lines (Shorrock,Crowley) 
 6.     Son Of A Famous Man       
         (Goble,Pellicci,Nelson,Housden)
 7.     The Rhythm King (Pellicci,Capek)
 8.     If I Get Lucky (Chapman)
 9.     I Dream Alone (Pellicci,Shorrock)
10.    The One That Got Away (Nelson,Lambert,Gaudette)
*Backup vocals and guitar: Peter Beckett
  
---
LITTLE RIVER BAND LIVE CLASSICS 1992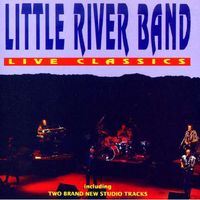 1.    Happy Anniversary (Birtles,Briggs)
 2.    It's A Long Way There (Goble)
 3.    I Dream Alone (Shorrock,Pellicci)
 4.    Skyboat (Housden)
 5.    Man On Your Mind (Shorrock,Tolhurst)
 6.    Lonesome Loser (Briggs)
 7.    Take It Easy On Me (Goble)
 8.    Reminiscing (Goble)
 9.    Baby Come Back (Beckett,Crowley)
10.   Walk Together (Froggatt,Thomas)
11.   The Night Owls (Goble)
12.   Help Is On It's Way (Shorrock)
13.   Cool Change (Shorrock)
14.   Lady (Goble)
15.   Summertime Blues (Cochran,Capehart)
16.   Walk Together (Studio)
17.   My Own Way Home (Studio)  
*Band members: Peter Beckett, Richard Bryant,
Stephen Housden, Wayne Nelson, Derek Pellicci, Glen Shorrock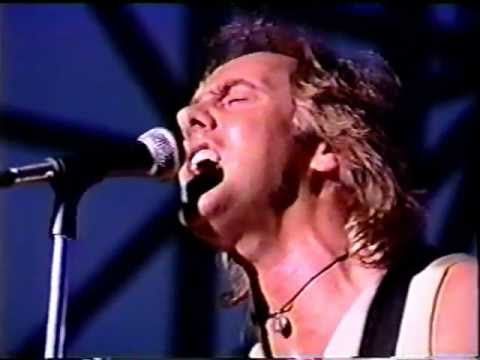 PAST SHOWS
1990
Australia Tour with Warren Zevon

04/03  Melbourne, Australia - Hilton Hotel (Warren Zevon)
04/04  Melbourne, Australia - Hilton Hotel (Warren Zevon)
04/05  Melbourne, Australia - Hilton Hotel (Warren Zevon)
04/06  Melbourne, Australia - Hilton Hotel (Warren Zevon)
04/07  Melbourne, Australia - Hilton Hotel (Warren Zevon)
04/08  Melbourne, Australia - Hilton Hotel (Warren Zevon)
04/17  Sydney, Australia - Hilton Hotel (Warren Zevon)
04/18  Sydney, Australia - Hilton Hotel (Warren Zevon)
04/19  Sydney, Australia - Hilton Hotel (Warren Zevon)
04/20  Sydney, Australia - Hilton Hotel (Warren Zevon)
04/21  Sydney, Australia - Hilton Hotel (Warren Zevon)
04/22  Sydney, Australia - Hilton Hotel (Warren Zevon)
04/23  Adelaide, Australia - Hilton Hotel (Warren Zevon)
04/24  Adelaide, Australia - Hilton Hotel (Warren Zevon)
04/25  Adelaide, Australia - Hilton Hotel (Warren Zevon)
04/26  Adelaide, Australia - Hilton Hotel (Warren Zevon)
04/27  Adelaide, Australia - Hilton Hotel (Warren Zevon)
04/28  Adelaide, Australia - Hilton Hotel (Warren Zevon)
04/29  Adelaide, Australia - Hilton Hotel (Warren Zevon)
05/03  Perth, Australia - Burswood Casino (Warren Zevon)
05/04  Perth, Australia - Burswood Casino (Warren Zevon)
05/05  Perth, Australia - Burswood Casino (Warren Zevon)
05/06  Perth, Australia - Burswood Casino (Warren Zevon)
~~~~~~~~~~~~~~~~~~~~~~~~~~~~~~~~~~~~~~~~~~~~~~~~~
1990

05/19  Parker's Ballroom  Seattle WA
05/20  Portland Center for Performing Arts Portland OR
05/22  The Coach House San Juan Capistrano CA
05/23  The Coach House San Juan Capistrano CA
05/24  Ventura Concert Theatre Ventura CA
05/28  The Strand  Redondo Beach CA
05/29  The Bacchanal  San Diego CA
05/30  The Roxy  West Hollywood CA
06/05  Roanoke Civic Center  Roanoke VA (Linda Ronstadt)
06/06  Hampton Coliseum  Hampton VA (Linda Ronstadt)
06/08  Starlight Theatre Kansas City MO (Air Supply)
06/09  Broome County Arena Binghamton NY (Linda Ronstadt)
06/11  Fox Theater  St. Louis MO
06/15  San Diego County Fair  Del Mar CA
06/16  San Joaquin County Fair Stockton CA
07/12  Salmon Brook Park   Granby CT
1991

Little River Band, Allman Brothers, Manfred Mann's Earth Band,
Beach Boys, Strange Girls European Tour 1991
 
6/27  Grugahalle Essen Germany
6/28  Waldbuhne Berlin Germany
6/29  Inselwiese Dinkelsbuhl Germany
6/30  Jahnstadion Gottingen Germany
7/02  Nya Ullevi Stadium  Gothenburg, Sweden 
7/04  Ohne Filter Club Baden Baden Germany
7/06  VFB Waldstadion Giessen Germany
7/07  Pferderennbahn Frauenfeld  Switzerland
7/09  Urfahrer Festival  Linz Austria
~~~~~~~~~~~~~~~~~~~~~~~~~~~~~~~~~~~~~~~~~~~~~~~~~~
1991

7/15  Roseland Theatre  Portland OR
7/16  Ventura Theater  Ventura CA
7/19  The Bacchanal  San Diego CA (The And)
7/20  Orange County Fair Arlington Theatre Costa Mesa CA
7/21  Anderson's Fifth Estate  Scottsdale AZ
7/25  The Blue Note Columbia MO
7/26  Adams County Fair Hastings NE (Oakridge Boys, Paul Revere,              
 Savoy Brown, Travis Tritt)
7/27  River-Cade Festival  Sioux City IA
7/28  People's Bar and Grill  Ames IA   
8/09  Riverport Amphitheatre  St Louis MO (Michael McDonald)
8/13  Empire  Cleveland OH  (Chris Luke)
8/16  Star Plaza Theatre Merrillville IN (BTO, Dave Mason)
8/18  Munn Ice Arena East Lansing MI (Air Supply)
8/20  Musik Kunstplatz  Bethlehem PA
8/21  Ocean Breeze Festival Park  Virginia Beach VA
8/22  Toad's Place  New Haven CT
8/23  Club Bene  Sayreville NJ
8/24  New York State Fair  Syracuse NY (Gary Lewis & Playboys)
8/26  Spinnaker  Panama City FL
8/27  Disney World Pleasure Island Orlando FL
8/28  Carefree Theater  West Palm Beach FL
8/31  Veterans Park Milwaukee WI
9/01  Taste of Colorado  Denver CO  
 ~~~~~~~~~~~~~~~~~~~~~~~~~~~~~~~~~~~~~~~~~~~~~~~~~~~~~~~~
1992

7/01  Summerfest Milwaukee WI
7/03  Riverfest  Fort Madison IA (Flashback Band)
7/04  Rancho Bernardo Inn San Diego CA
7/10  Ventura Concert Theater  Ventura CA (Michael On Fire)
7/11  The Coach House  San Jaun Capistrano CA
7/12  The Strand  Redondo Beach CA
?/??  Konocti Harbor Resort Kelseyville CA (Survivor)
7/19  Parker's Ballroom Seattle WA
7/21  Roseland Theatre  Portland OR
8/08  Fox Theatre St. Louis MO
8/11  Spinnaker  Panama City FL
8/26  Club Bene South Amboy NJ
8/27  Toad's Place  New Haven CT
8/28  New York State Fair  Syracuse NY
8/31  The Vogue  Indianapolis IN (Addison Ellis)
9/02  Du Quoin State Fair  Du Quoin IL (Kathy Troccoli)
9/20  Huxleys Neue Welt  Berlin Germany
10/6  The Bridge Hotel Rozelle Australia
~~~~~~~~~~~~~~~~~~~~~~~~~~~~~~~~~~~~~~~~~~~~~~~~~~~~~~
1992
LITTLE RIVER BAND/SEALS AND CROFTS TOUR 
 
7/30  Front Row Theatre  Cleveland OH
7/31  Meadow Brook Music Theater Rochester Hills MI 
8/02  Star Plaza Theater Merrillville IN
8/03  Holiday Inn Convention Center Stevens Point WI
8/04  Santa Clara County Fair San Jose CA
8/06  Ozark Empire Fair Springfield MO
8/07  Midland Theatre Kansas City MO
8/09  Rapids On the Reservoir Brandon MS
8/10  Heymann Performing Arts Center, Lafayette, LA 
8/12  Chastain Park Atlanta GA 
8/14  Warner Theatre Erie PA
8/15  Melody Fair Theatre North Tonawanda NY 
8/16  Hampton Beach Casino Ballroom Hampton NH 
8/18  Ontario Place, Toronto ON
8/19  The Chance Theater  Poughkeepsie NY 
8/20  Valley Forge Music Fair Devon PA 
8/21  Kirby Center Wilkes-Barre PA 
8/22  Pier Six Concert Pavilion Baltimore MD
8/23  Westbury Music Fair Westbury NY 
1993

11/25/1993 Logan Campbell Centre Auckland NZ (The Holy Toledos)
1994

2/09  Club Bene South Amboy NJ (Poco)
7/29  Church Street Station  Orlando FL (Poco)
8/10  Red River Opry  Tempe AZ
8/12  The Coach House  San Juan Capistrano CA
8/13  Six Flags Magic Mountain  Valencia CA
8/17  Musikfest Bethlehem PA (cancelled)
8/26  Whiskey Pete's Hotel & Casino Stateline NV
8/29  Hampton Beach Casino Ballroom Hampton  NH
9/03  Anerican Music Festival Virginia Beach VA
9/10  Melody Fair Theatre  North Tonawanda NY (Air Supply)

11/13  Vinoy Park  St. Petersburg FL
11/21  Little Bit of Texas  Indianapolis IN
11/23  Westport Playhouse  St. Louis MO
11/29  Outback Nightclub  Tucson AZ
1995

??/?  Arizona Charlie's Casino  Las Vegas NV
5/21  Hershey Park Amphitheater Hershey PA
5/23  Mr. Laff's  Sunrise FL
5/26  Owensboro Executive Inn  Owensboro KY
5/27  Players Island Casino  Metropolis IL
6/02  Star Lake Amphitheater Burgettstown PA
        (Three Dog Night, Guess Who, Rare Earth, Edgar Winter)
6/04  Festival on the Hudson  Albany NY
6/10  USAF Academy Falcon Stadium Colorado Springs CO
          (The Inman Broters Band)
6/14  Cowboys Club  Bossier City LA
6/15  Casino Magic  Biloxi MS
6/16  Casino Magic  Biloxi MS
6/17  Casino Magic  Biloxi MS
6/23  Jack's Mountain View Inn Sarver PA (Tony Janflone Jr.)
6/25  Pine Knob Music Theater Clarkston MI (ELO Part II)
6/28  Spinnaker  Panama City FL
6/29  Disney World Pleasure Island Orlando FL
6/30  Frederick Brown Jr.  Amphitheater Peachtree City GA
7/01  Lake County Fairgrounds Crown Point IN
         (ELO Part II, Survivor, Enuff Z'Nuff)
7/02  Eyes To The Sky Festival  Lisle IL (Survivor, Starshop)
7/03  Riverfest  Fort Madison IA (Double Cross, Kansas City Street Band)
7/04  WGN AM Chicago IL (Live In-Studio performance)
7/04  Frontier Days Festival  Arlington Heights IL
7/07  Cardinal Stadium  Louisville KY
7/12  Music City Mix Factory  Nashville TN
7/15  Worlds Biggest Beach Party Williamsburg IA (The Byrds)  
7/16  Rock Fest 2nd Annual Cadott WI
         (Kansas, Foreigner, Fleetwood Mac)
7/22  The Love Shack  Des Moines IA
7/23  Marion Park Summerfest  Norway MI
7/26  Lucas County Fairgrounds  Maumee OH
7/28  Dixie Center Cox Auditorium St. George UT (Cutting Edge)
8/02  Ballard Firehouse  Seattle WA (Kathy Sorbo)
8/03  Commodore Ballroom  Vancouver BC (Crusoe)
8/04  Clark County Fair Ridgefield WA
8/05  Playfair Race Course Spokane WA (America)
8/06  JDs Nightclub  Great Falls MT
8/12  Red River Opry  Tempe AZ
8/14  Outback Nightclub Tuscon AZ
8/15  Coach House  San Juan Capistrano CA (Jay Nixon)
8/16  House of Blues  Los Angeles CA
8/19  Iowa State Fair Des Moines IA
8/25  Riverport Amphitheater  St. Louis MO (Chicago)
8/28  Minnesota State Fair St Paul MN (Chicago)
8/31  Penn Valley Park  Kansas City MO
9/02  Septemberfest  Schaumburg IL
9/03  Tunetown Titusville PA
1996

5/17  Mayfest at Harbor Walk Villiage  Destin FL
5/18  Taste of the Beach Festival  Indian Shores FL
5/23  Pavilion Entertainment Center  Lula MS
5/31  Starlight Theater Kansas NO (Poco, America)
6/01  Riverport Ampitheater  St. Louis  MO (Poco, America)
6/07  Grizzly Rose  Denver CO
6/08  McKay Events Center Orem UT
         (Night Ranger, Ambrosia, Edgar Winter)
6/20  Coach House San Juan Capistrano CA
6/21  Horizon Lake Tahoe Casino  Stateline NV
6/22  Horizon Lake Tahoe Casino  Stateline NV
7/20  3rd Annual Rock Fest Cadott WI
         (Ted Nugent, Bad Company, The Smithereens, 10,000 Maniacs)
7/23  A Little Bit of Texas  Indianapolis IN
8/01  Mississippi Nights  St. Louis  MO (Stubblefield Band)
8/02  Riverfest  Watertown WI
8/03  Surf Ballroom Clear Lake IA
8/13  Ballard Firehouse Seattle WA
8/16  Lane County Fair, Eugene OR (Paul Revere and the Raiders)
8/24  Old Post Road Park  Russellville  AR
8/25  The Blue Note  Cincinnati OH (Local Aliens)
8/30  The Today Show  New York NY (morning show)
8/30  Characters  Columbia SC  (evening show)
8/31  Washington County Fairgrounds Washington PA
         (Iron City Beer Rib Cook-off)
9/01  Last Fling Festival  Naperville IL
9/02  Septemberfest Schaumburg IL (Kansas)
9/06  Siletz Tribe Convention Center Lincoln City OR (Brenda Lee)
9/07  Siletz Tribe Convention Center Lincoln City OR (Brenda Lee)
9/14  State Capitol Mall  St. Paul MN (Dan Hill, lll Cry Soul)
9/24  Spokane Opera House  Spokane WA
9/26  Central Washington State Fair Yakima WA
         (Weird Al, Three Dog Night)
9/27  Peppermill Resort Hotel  Reno NV
9/29  Billboard Live  West Hollywood CA
10/1  The Coach House  San Juan Capistrano CA (Gene Murrell)

11/22  Players Casino Metropolis  IL
11/26  Pokey's Performance Hall  Cleveland TN
12/01  Broward County Fair Hallandale Beach FL
           (Percy Sledge, The Original Drifters)
12/06  Bringhurst Field Alexandria VA
           (Johnny Earthquake and the Moon Dogs)
12/18  West End Theatre Sanford FL
1997

4/25  White Auditorium Emporia KS
4/26  Young Arena Waterloo IA 
4/27  Guitars and Cadillacs  Lincoln NE
4/28  Young Arena  Waterloo IA
4/29  Super Toad Entertainment Center  Des Moines IA
4/30  Alton Belle Casino  Alton IL
5/01  Alton belle Casino  Alton IL
5/02  Alton Belle Casino  Alton IL
5/03  Alton Belle Casino  Alton IL
5/04  527 Main Street  Murfreesboro TN
5/06  House of Blues Myrtle Beach SC
5/07  Stampede Club Tampa FL
5/08  Spinnaker Panama City FL
5/09  Casino Magic  Biloxi MS
5/10  Contraband Days Lake Charles LA
5/11  North 40 Festival  Folsom LA
5/13  Guitars and Cadillacs  Joplin MO
5/14  Wareham Opera House  Manhattan KS
5/15  Guitars and Cadillacs  Branson MO (Brewer & Shipley)
5/16  Lady Luck Casino Bettendorf  IA
5/17  Lady Luck Casino Bettendorf  IA
5/18  Lady Luck Casino Bettendorf  IA
5/21  Winnavegas Casino  Sloan IA
5/22  Station Casino Kansas City MO
5/23  Wormy Dawg Concert Hall  Stillwater OK
5/24  Fair Park Coliseum  Dallas TX
5/25  Flamingo Hilton-River Rock 97 Laughlin NV                                               (Starship/Survivor)
5/26  Walnut Creek Amphitheatre  Raleigh NC (Starship)
5/29  In Cohoots  Indianapolis IN
5/30  Riehle Brothers Tavern  Lafayette IN
5/31  J.R.'s Executive Inn Riverfront  Paducah KY
6/03  The Moon  Tallahassee FL
6/04  T-Birds  Jacksonville FL
6/05  Characters  Greenville SC
6/06  World Mardi Gras  Charlotte NC
6/07  Harbor Fest at Town Point Park Norfolk VA (Chuck Berry)
6/10  Manhattans  Colorado Springs CO
6/11  Grizzly Rose Denver CO
6/13  Texas Station Casino  Las Vegas NV
6/14  Mill Casino  North Bend OR
6/16  Sycuan Gaming Centre  El Cajon CA
6/18  Steamboat Days Burlington IA
6/19  The Blue Owl Columbia MO
6/20  St. Louis Zoo St. Louis MO (Air Supply)
6/21  Rose Festival, Glen Miller Park Richmond IN  (Survivor)
6/24  Paw's Barn  Fairhope AL
6/25  Triple A Bar  Baton Rouge LA  (Arkangel)
6/26  Mississippi Intl. Balloon Classic  Greenwood MS
6/27  Cotillion Ballroom  Wichita KS
6/28  The Cave  Lake Ozark MO
6/29  Countryland  Springdale AZ
7/02  Shots Bar & Grill  Tulsa OK (Stone Soup)
7/03  Frontier Days Arlington Heights IL (Starship, Buckinghams)
7/05  Frontier City Theme Park  Oklahoma City OK
7/20  Venetian Festival  St. Joseph MI
7/21  Coyotes Louisville KY
7/23  The Roof Garden  Arnolds Park IA
7/24  Ribfest  Minneapolis MN 
7/26  Silver Mountain  Kellogg ID
7/27  The Mint  Sun Valley ID
7/29  Washington County Fair  Hillsboro OR  
7/30  Emerald Queen Tacoma WA
8/01  Chinook Winds Casino Lincoln City OR
8/02  Chinook Winds Casino  Lincoln City OR
8/03  Rail City Casino Sparks NV  
8/04  Somoma County Fair Santa Rosa CA
8/05  Win-River Casino  Redding CA
8/07  Guitars and Cadillacs  Omaha NE
8/08  Washington Town and Country Fair Washington MO
8/09  Grizz Festival-Quincy Raceway  Quincy IL (Son of Sam)
8/12  Sun Studios  Memphis TN  
8/13  Sun Studios  Memphis TN
8/14  Rock the Square-Fountain Square Cincinnati OH (Bad Habit)
8/15  Smoke Rings Cigar Bar  Hazelton PA (Splintered Sunlight)
8/16  Hooligans  Syracuse NY
8/17  Hartwood Acres Concert Area  Hampton PA
8/19  Royal River Casino  Flandreau SD
8/20  Royal River Casino  Flandreau SD
8/21  Guitars and Cadillacs Branson MO
8/22  Rotary Park Wentzville MO
8/23  Forum Civic Center  Rome GA
8/26  Cowboy's  Dothan AL
8/27  Boomtown Casino Harvey LA
8/28  Buckboard Country Music Showcase  Smyrna GA
8/29  Celebrity Square  Myrtle Beach SC
8/30  Colonial Downs Race Track New Kent County VA
         (The Platters, The Association, The Embers)
8/31  Columbia County Fair Chatham NY
9/01  Mickey Rat's Beach Club  Angola NY 
9/02  Starlite Theater  East Hartford CT 
9/03  Starlite Theater  East Hartford CT
9/05  Danville Harvest Jubilee Danville VA (Flaming Blue Iguanas)
9/06  Mountain Arts Center  Prestonsburg KY
9/10  Hopewell Yacht Club  Hopewell VA
9/11  T-Birds  Jacksonville FL
9/12  Crestview Music Fest  Crestview FL 
9/13  Point Cadet Plaza  Biloxi MS
2010
 
5/01 Ovation Lounge Henderson NV-LRB 35th Anniversary 
          (with special guest Peter Beckett)